The 2016
ISA Water/Wastewater and Automatic Controls (WWAC) Symposium
recently drew 165 attendees, some from as far away as Singapore, to its annual conference and exhibition held in Orlando, (FL, USA). The event featured over 40 speakers and presenters as well as nearly 30 exhibitors/sponsors. Presentations and exhibits highlighted the latest information and technologies relevant to the water and wastewater industries.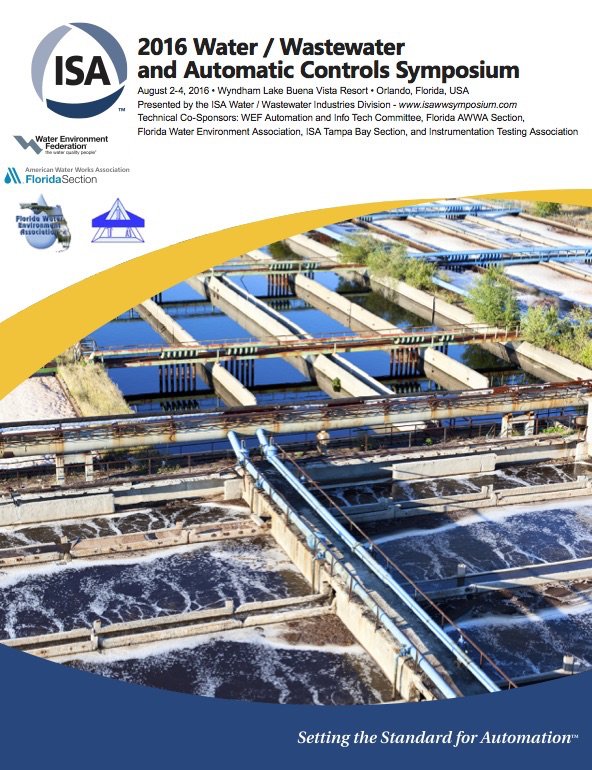 "The 2016 Symposium was successful in many regards, from the quality of the presentations and the level of expertise among our numerous speakers to the top-notch training courses, SeaWorld facility tour and outstanding exhibitors,"
said General Symposium Chair
Pavol Segedy
.
"We've once again built upon the success of past symposiums and offered our attendees another unique learning and networking opportunity."
The highly targeted Symposium focused on the needs of automation professionals and on the varied challenges associated with automation and instrumentation in the municipal water and wastewater sectors, including emerging automation and control systems trends, SCADA (supervisory control and data acquisition), instrumentation, systems integration, optimization, cybersecurity and alarm management.
Attendees took part in an extensive program of keynotes and technical presentations; an interactive panel discussion; a behind the scenes control systems operations tour of the local SeaWorld attraction; a vendor exposition; networking events; and two ISA training courses: Application of Industrial Wireless Systems and Using the ISA/IEC 62443 Standards to Secure Your Control System.
The Symposium's technical speakers presented to a large audience of SCADA designers, programmers and users. Of particular note were presentations on High Performance (HP) HMI design, cybersecurity and the role of SCADA in utilities of the future.
This year's keynote address was delivered by
Steven D. Drew
, Director of Water Resources for the City of Greensboro, (NC USA). Drew's presentation addressed the importance of maintaining critical service professionals, specifically front line automation pros and maintenance technicians, in achieving efficiency goals. Those employees, he emphasized, are passionate about their work and are the agents of change and innovation that will propel a utility to the next level of efficiency.
Invited speaker
Greg Lehmann
spoke about the importance of standardization for Human Machine Interfaces (HMI) in process automation industries. His presentation described the call for the new ISA HMI Standard, provided a detailed chronicle of its journey from charter to ANSI approval, and addressed its ongoing activities. Lehmann is a Process Automation Technical Manager with 30+ years of industry experience. He is employed by AECOM.
Invited speaker
Dean Ford
discussed the background behind the Automation Competency Model (ACM) and current work going on to apply the model in industry. Noting that its application can be beneficial to workforce development challenges within organizations, Ford illustrated methods of implementing it and practical steps automation professionals can take toward implementation personally, professionally and organizationally. Ford is the Executive Vice President of Westin Engineering.
Among the guest speakers were
Bryan L. Singer,
CISSP, CAP, Principal Investigator with Kenexis Security Corporation and author of two books about cybersecurity;
Kevin M. Morley, Ph.D.,
Security & Preparedness Program Manager for the American Water Works Association;
Michael Sweeney, Ph.D.,
Deputy Executive Director of Toho Water Authority; and 40-year industry veteran
Tom DeLaura
from Water Environment Federation (WEF). Over 30 additional technical speakers from throughout the water and wastewater industry rounded out the Symposium's two-day agenda.
A popular attraction was the Kickoff Networking Event which featured a behind the scenes tour of the controlled water processes at the SeaWorld attraction. Over 50 Symposium attendees participated in this unique experience.
The Symposium also received robust participation both sponsors and exhibitors. Platinum sponsors for this year's event included Schneider Electric, Phoenix Contact and General Electric. Gold sponsors were Eramosa and Industrial Video & Control. Over 35 different exhibitors showcased their products and services during the trade show.
• The 2017 ISA WWAC Symposium, is scheduled for 8-10 August 2017, once again planned for Orlando.
#ISAWWAC #ISAuto #PAuto