R3 Sensors joins ISA100 Wireless Compliance Institute
R3 Sensors
has recently joined the
ISA100 Wireless Compliance Institute (WCI)
as a supplier member. R3 recognizes the reliability, flexibility and, scalability of the
ISA100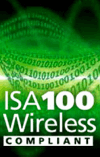 industrial wireless communications protocol and has selected it as the foundation technology for their new line of sensors. ISA100 helps streamline and optimize the integration of industrial process automation applications and make it easier for equipment and systems to work together.
"We are pleased to be counted as a member of the WCI and to help promote the the advantages of the ISA100 family of standards,"
said
Robert Gooch
, founder and president of R3 Sensors. R3 Sensors relies on the ISA100 family of standards to ensure its customer base stays abreast of equipment health and can be notified before failures occur.
Operations and plant engineers stay in constant contact with vital systems with R3's field proven eGuard monitoring system. Multiple sensor types can be easily "plugged" into the R3 universal wireless transmitters through its patented V-Bus "plug-and-play" sensor technology. R3 continues to strive for excellence and has announced an early 2011 release date for its ISA100.11a based sensor line-up.
"The addition of R3 Sensors expands coverage of industry verticals represented by member companies in WCI and demonstrates the expansion of solutions to real customer problems addressed by products using the ISA100.11a technology,"
said
Andre Ristaino
, ISA100 Wireless Compliance Institute managing director.
"R3's depth of expertise in wireless technology, equipment condition monitoring and, creative application of technology is impressive. We look forward to working with the R3 team here at WCI."
The ISA100.11a Industrial Wireless Networking Standard, approved in September 2009, is the first in the ISA100 Family of Standards. This mesh standard protocol helps companies build interoperable communications equipment. As a result, manufacturing and processing plants can create, modify, and optimize beginning-to-end operations fast, cost-effectively and seamlessly.
Future ISA100 standards will include support for backhaul functionality, factory automation and other key use cases.