Various statements are being issued by companies and events in the Automation Sector as well as some helpful suggestions. We will list these below as we hear of them. There is some excellent
Corona Advice
- on coping with this crisis on the Profibus's British website, including warnings about Corona Virus scammers & phishing.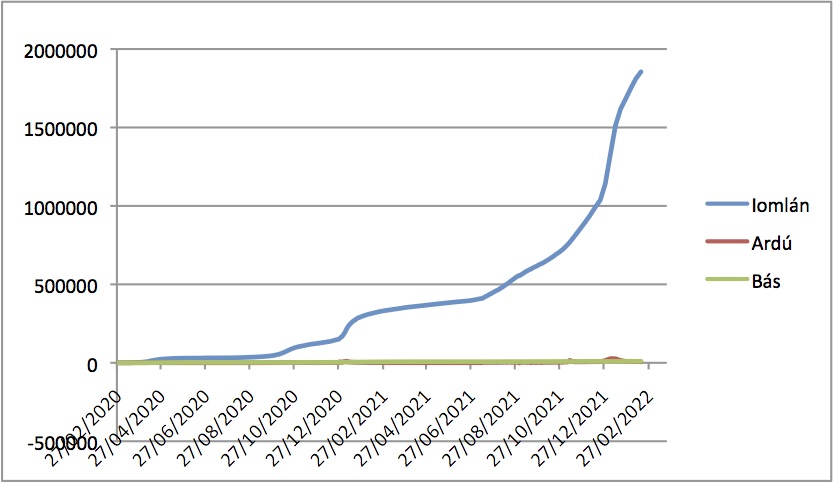 Blue: Confirmed Cases
Red: Daily Increase
Green: Total Deaths
The graph on the right shows latest progress of the disease on the Island of Ireland. The first case on the Island was on 28th February (in Belfast). The first case in the 26 Counties was announced 1st March 2020. The testing policies in both jurisdictions are different with Northern Ireland though they have tended to be closer to each other as progress in understanding and confronting the virus develops. There is some distortion in the testing figures due to delays caused by the non availablity of testing materials.and facilities especially in the earlier stages of this debilitating disease.
There was a significant jump in the number of positive Covid-19 tests in Northern Ireland on Thursday, 25th June, but the increase (over 800 cases) was due to a change in how figures are reported and included local authority cases from April and May. No increase in deaths were reported and there were no deaths reported in the jurisdiction. A jump like this was recorded in the 26 county area too (3190 cases). This was due to delays as some tests were sent to Germany for assessment as the testing regime was being developed in Ireland. This regime was concluded in mid April.
Major outbreaks were identified in clusters especially in residential homes for older people and those with particular underlying conditions and testing concentrated on these starting in mid April leading to an increase of reported cases. During June the figures were sufficiently low to allow a more rapid lifting of the restrictions at the end of that month.
Most recent news
The first day in which no deaths were reported (Since mid March) were 25th May in the 26 counties and the following day in Northern Ireland. The first day in which no deaths from COVID-19 on the Island - both jurisdictions - was 15th June 2020.
Northern Ireland
now has different timelines than those of the
UK Government
(as do
Scotland
and
Wales
). In the 26 counties of the Republic major reviews of the restrictions have resulted in
major changes outlined here
which take commence on 8th June 2020. But as the Irish Government announcement statement says,
"COVID-19 is still having a major impact on our country. By working together we have made progress – but the virus is still in Ireland."
A perceptible rise in the number of confirmed in both jurisdictions has led the Irish Government to delay the easing of restrictions until 10th August (instead of 20th July). The most recent figures include a very large number of people under 45 years of age. Deaths and admissions to hospitals seems to have remained stable however.
In the beginning of August a significant rise was noted in meat processing plants and this led to a regional reversal including closure of restaurants and public gatherings and confinement of the public to their local counties in three of the 32 counties of Ireland (Kildare, Offaly & Laois) for a further two weeks to ensure that these cluster outbreaks did not spread into the wider community. Community transmission has been consistently low throughout the country - north & south.
Many of us are involved (perhaps for the first time in video meetings. This brief posting may help, How to look good in video calls! (BMON 8/4/2020) as may this article Mastering the role of the virtual meeting host (Elizabeth Scarce, Control Engineering 8/5/2020).
Autonomous disinfecting robots join the front lines of the coronavirus battle (InTech May June)
Robotics & Automation industries post COVID-19 (Connectivity 23/6/2019)
Motion control market hit by Covid-19 (IEB 23/6/2020)
Survey reveals that British public sees key role for robotics in tackling COVID-19 &future pandemics (UK-RAS 19/6/2020)
There is no dip! (ARC Advisory 12/6/2020)
Innovative Engineering Solutions Contribute to COVID-19 Medical Protection (Automation.com 29/5/2020)
Will COVID-19 change the future of the electric grid? (ARC Advisory 27/5/2020)
Top products since COVID-19 pandemic relate to air control and/or cleaning (Control Engineering 21/5/2020)
Coronavirus phishing attacks rising (Control Eng 14/5/2020)
AQE & WWEM postponed until May 2021 (4/5/2020)
The Future of Business in a World with Coronavirus (Corsini Group 28/4/2020)
All automation face-to-face events cancelled for 2020 (ISA 24/4/2020)
My thoughts on COVID-19 (Real Time Automation 15/4/2020)
Analog Devices Contributes to Global Fight Against COVID-19 (ADI 8/4/2020)
How Emerson is responding to the Covid-19 outbreak (MPN 6/4/2020)
We need some constants in our lives. (BMON 2/4/2020)
Our commitment during the COVID 19 outbreak. (Maverick 1/4/2020)
Harting cable assemblies for medical devices (1/4/2020)
Corona pandemic and CAN. (CiA 1/4/2020)
Support for ventilators (Anglia GB 30/3/2020)
An exhibition hall as a temporary hospital? (Bmon 29/3/2020)
Survey on impact of COVID-19 on electronics industry released (Control Engineering 28/3/2020)
ACHEMA preparations and the impact of SARS-CoV-2. (ACHEMA 26/3/2020)

Hannover Fair 2020 - (Cancelled next fair in 2021; 26/3/2020)
Covid-19 Related Event and Training Status Update Hub (ISA 26/3/2020)
Business Supports Udarás na Gaeltachta (25/3/2020)
Impact of COVID-19 on Industrial Markets (Collection of studies from ARC Advisory 25/3/2020)
ARC Industry Forum Europe Goes Virtual (25/3/2020)
Belfast Seminar deferred to October 2020 (Profibus 24/3/2020)
Making remote working work! (GC Forge 24/3/20200
Helping fight COVID-19 through better comms (BMON 23/3/2020)
Gas analyser manufacturer offers help! (Signal Group 23/3/2020)
Coronavirus will force manufacturers to enhance automation, digitalization (Control 18/3/2020)
Business Update For Fiscal Second Quarter (Keysight 18/3/2020)
COVID-19 UpDate (Headwell Photonics:17/3/2020)
Industry 4.0 Summit (Cancellation GB Media & Events Ltd 16/3/2020)
Working from home productively (BeMon 16/3/2020)
Enterprise Ireland Business Response – COVID-19 (13/3/2020)
Apple Worldwide (13th March 2020)
Statement from ISA Europe (13 March 2020)
Measures from Anglia Components. (11th March 2020)
COVID-19 Webpage (IDA 10/3/2020)
productronica China: New date in July 2020 has been set (10th March 2020)
What's going to happen about PI UK's events? (Profibus/Profinet UK 9th March 2020)
Analytica 2020 - Munich (6th March 2020)
New date October 2020
Coronavirus and the ARC Automation Index. (ARC Advisory Group 6th March 2020)
Emerson User Group Event - Milan! (Postponed 27th February 2020)
Rescheduled for March 2021 same venue!

New Dates for Control World Expo 2020 (Kuala Lumpur 7th February 2020)